Overview
Weebly is a well-known e-commerce solution useful for small-scale and midsized businesses. Weebly helps in inventory management, shopping cart management, mobile app management, and website management under a single roof. It is available on both cloud-based and on-premise deployment basis.
The web hosting and online store management allows users to create their business sites with the use of drag and drop editor and default templates. The websites are mobile-friendly and can be used on various devices like smartphones and tablets. Its shopping cart management users add carts and check-out pages to their website.
Customers can also shortlist their required items using filters and category pages. Weebly is available in different pricing plans depending on the users. It also provides online support, video tutorials, and FAQ support.Let us take a look at the important elements in this Weebly review.
Ease of Use
Weebly is an exciting drag-and-drop website builder. With this feature, you can create a website as you see it exactly on the screen. You do not need to switch from backend to front end or edit any backend code to make changes in visuals. You can drag actual images, buttons, text boxes and beautify your page as per your wish.
Weebly is a great choice for beginners who look for an easy and simple start. Website building is super easy with the simple mouse clicks and the drag and drop editor. The customizability factor is slightly less when it comes to making your website look exactly what users wanted. Overall, Weebly is an uncomplicated and straightforward builder where you can create websites easily and quickly.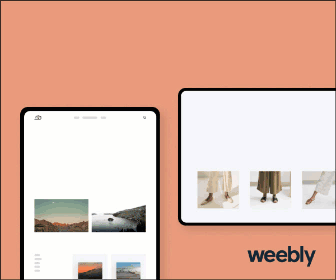 Types of Websites
Weebly comprises several tools useful for artists, bloggers, online marketers, businesses. Small scale businesses are benefited a lot from Weebly because of their SEO support, scalable tools, and simplified designs.
Weebly has a vast app store similar to many website building platforms with built-in features for the successful growth of your website. Though it has its strengths and weaknesses, it might be suitable for some and not for others. Let's take a look at who all can profit from Weebly,
Business
The important targets are always the business audience. Small scale businesses have a chance to grow tremendously with Weebly by getting started with website building to finding customers and sell products. Weebly also integrates with Square's payment suite that makes it easy to
The reasons for starting with business and scaling are,
∗ Sturdy SEO tools and support
∗ Newsletter and blogs as marketing tools
∗ All plans include e-commerce tools
∗ Themes according to business specifics
∗ Get insights on visitor interactions and website performance
Blogging
Webbly's blogging features extremely rock-solid and affordable. Weebly consists of some amazing blogging tools if you are looking at running a small blog or a blogging website. It includes,
∗ Media integration in dashboard and app store
∗ Themes that are blog specific
∗ Advanced comment management
∗ Facebook and Twitter scheduled sharing
∗ Tag, sidebar, and category customization
∗ Built-in social sharing and RSS
Additionally, you can make some SEO alterations like add custom URLs, add custom header and footer
Ecommerce
Small online stores make this platform their choice because of its strong SEO and marketing tools that can be optimized for their website. On selecting "Online Store" during the building process, you will be directed to your dashboard. There you can select the desired theme, customize your design, add products, complete payment and do a lot many operations. The store builder is very simple and cannot expect too many alterations and customizations.
Weebly can be recommended mostly for small businesses but large businesses would need a more robust e-commerce builder like BigCommerce or Shopify. Weebly's free plan is accessible to only US customers and accepts payments only through Square. It is great for existing as well as new stores that wish to generate some revenue online.
Meet Weebly's New Suite of eCommerce Tools
Personal Portfolio
Weebly has more to offer even for personal projects. Its designs are simple and stylish that makes website building hassle-free. The major aspects that make Weebly a good choice for portfolio building are,
∗ Video background
∗ Social media marketing
∗ Custom Fonts
∗ Built-in image editor
∗ Newsletters

Themes
Weebly has a good collection of themes but not many. There are around 40 themes to choose from that are well-designed and attractive. All available themes are mobile responsive. So, how do they look? The themes help to create the most stylish websites that are trending in the market and look amazing. The elements range from grid-layouts, screen backgrounds, numerous styles, etc. Another best part is that you can switch over to another theme even after you have published your site. This is particularly useful when you change your mind and wish to redesign for a better look.
Weebly's themes come free, but you also have an option to buy themes built by developers for more special effects. The themes are systematically arranged in categories for users to choose and pick accordingly. The categories can be split as,
Online Store– 15 different types in this vary between grid layouts and full-screen designs The product pages consists of a built-in call to action button on Homepage
Business– This comprises 14 types that feature large background images and banners that look trendy. There are few CTA's that direct to a new commercial website.
Portfolio– 7 different portfolio designs are majorly full-screen background images that create a beautiful look for any portfolio designed with yet some graphics or photos.
Personal– There are 7 types again in this that help create resumes. The major focus is the "Contact Me" button on the homepage.
Event– This type has 6 different designs that display big, bold headings and include an "RSVP" button on the homepage.
Blog– The 8 blog themes comprise more creative design and more functional and less text-based layouts. The homepage displays the "Read More" button and other featured categories.
Weebly's themes meet all the basic requirements of any e-commerce solution, there are a variety of designs to choose from, all look good, they are free and responsive. You can even switch themes. Another aspect is that of customizability. Weebly does not give you complete freedom to be creative.
The themes are more structured and cannot be dragged and dropped anywhere. There can just be a consistent design on your website and you cannot make minor changes and beautify your website. But, it lets you use coding to edit your theme. But, without coding knowledge, basic what you can play around with themes can be,
→ Upload personal images
→ Alter color scheme
→ Create new pages
→ Add apps
→ Change text and fonts
Tools and Features
Weebly boasts of its scalable features, helpful SEO guides, huge app center, robust blogging tools, and ultimate e-commerce suite features. In addition to all this, you get marketing and analytical tools,24/7 support, and built-in site security. Many features make Weebly an excellent web building tool. Some of the best ones are,
Scalability
Is Weebly Scalable? YES! It is one of the best tools for scaling a website with several built-in features and some more available in App Center. Another aspect is that you can use coding language to customize your website. However, Weebly isn't suitable for very large online stores.
App Centre
Weebly has an amazing app center comprising free and paid apps that can be integrated with your website with just a single click. The editor has all basic features like an image gallery and text blocks but the App Center is made to add more advanced features to your websites such as the "Back to Top" button or FAQ section. The Apps are categorized as,
⇒ Communication
⇒ Ecommerce
⇒ Site tools and features
⇒ Social
⇒ Marketing
The App Center is important as it allows users to expand and customize your website without coding. Any app needed can be added in the center with a single click which makes it easy to install the required features for your campaign. Some are free and some are paid apps and there are around 60 such apps to choose from.
SEO
Search engine optimization helps in boosting your website presence and is crucial if you need to grow your online presence. Weebly has a strong set of SEO tools that comes with,
⇒ Meta descriptions
⇒ Sitemap
⇒ Responsive Design
⇒ SEO friendly HTML formatting
At any point in time, you can edit your titles and meta descriptions, customize URL, and many other SEO elements like adding page-specific descriptions or alt text to images. Weebly comes with an ultimate SEO guide that provides insights to optimize your website, be it in keyword research or analyzing your site performance. Installing Google Analytics helps in analyzing your website and Weebly has its own built-in website statistics tracker known as Insights which provides real-time statistics on your website data and traffic.
Ecommerce
Weebly's e-commerce has been recently acquired by Square that includes a modest suite of e-commerce tools and you can also sell on your free plan. Some tools include,
⇒Inventory management
⇒ Items
⇒ In-store pickup
⇒ Quick shop
⇒ Shopping cart
The platform is more suitable for small e-commerce stores and upgrading to a more professional plan helps in unlocking better tools like reviewing an item or accepting payments through PayPal.
Marketing
Marketing plays a vital role in a website's growth and online success. Weebly App Center has several marketing apps like create popups, add Instagram feeds, run Google Ad campaigns, etc. that can be found in the Marketing category of App Center
The largest method of marketing is email marketing where Weebly Promote helps. This is the platform's newsletter tool which is meant to make email marketing easy and effective for users. It syncs with your Weebly site, consists of pre-designed layouts, drag and drop editor, easy to import contacts, and other email-related reports. Weebly Promote is worth checking if you tend to use marketing tactics for your website.
Weebly – Websites, eCommerce & Marketing in one place.
Help and Support
Weebly comprises numerous guides that are helpful when you come across any common question that you can email anytime. All subscription plans have access to its community forum and email support. Phone support is accessible only on Pro or Performance plans. Live chat support or phone support can be accessed only if you are a resident of the US. Another way is that you can post your query on Weebly's Facebook Page or can contact the team through Twitter.
Learn new skills with step by step Weebly Guides
Hosting and Security
Weebly plan includes your site host and users are not required to buy any separate plans for it. It also encompasses extra security measures and protects websites from DDoS attacks giving extra cyber protection. Users can also activate SSL certificates automatically that will help give an extra layer of encryption to your data.
Pricing
Weebly offers a free plan that is completely free to build, publish and even sell. There are no hidden costs nor any time limit. The free plan will give you an overall view of whether Weebly is the suited web builder for you. Once you are convinced with the features, you can upgrade to other paid plans to explore more detailed features.
Weebly pricing plans are separate for Websites and Online Stores.
For Websites,
Free – Basic Use
Connect – $5/month(when paid annually) – Connect a domain
Pro – $12/month( when paid annually) – Groups and Organizations
Business – $25/month (when paid annually) -Small business and stores
For Online Stores,
Pro – $12/mo (when paid annually) – For Groups and Organizations
Business – $25/month( when paid annually)- For Small business and stores
Business Plus – $38/month (when paid annually) – For Power sellers

Pros
1.Best tool for small businesses
2.Easy to use interface
3.Remarkably customizable templates
4.Very helpful SEO guides
5.Great responsive themes
6.Good selection of apps for integration
7.Can assign editor access for better team management
Cons
1.No personal backup option available.
2.Limited drag and drop customization
3.No Artificial Design Intelligence option
4.Not great for international websites
Read Also,
What is a Social Proof Marketing tool and Why You Need One: UseProof Review 2021
Power-up your Elementor Page Builder with Crocoblock
Conclusion
With the completion of reviewing the features of Weebly, we can thoroughly understand that it is the best website builder platform for small businesses in the market. It is artistically simple, uncluttered, easy to navigate which is the best part. It may not suffice the needs of what other sophisticated platforms provide, but you get used to the features as you start working on it.
Weebly offers to fine-tune your site using CSS and HTML and even export to edit elsewhere. It is highly recommended to start with the Basic Free Plan and upgrade to other plans once experienced. It is useful for small business or portfolio websites. Undoubtedly, Weebly has proved itself to be a solid and diverse web builder. The free plan is devised to try it yourself- the only way to realize if Weebly is your perfect web builder.